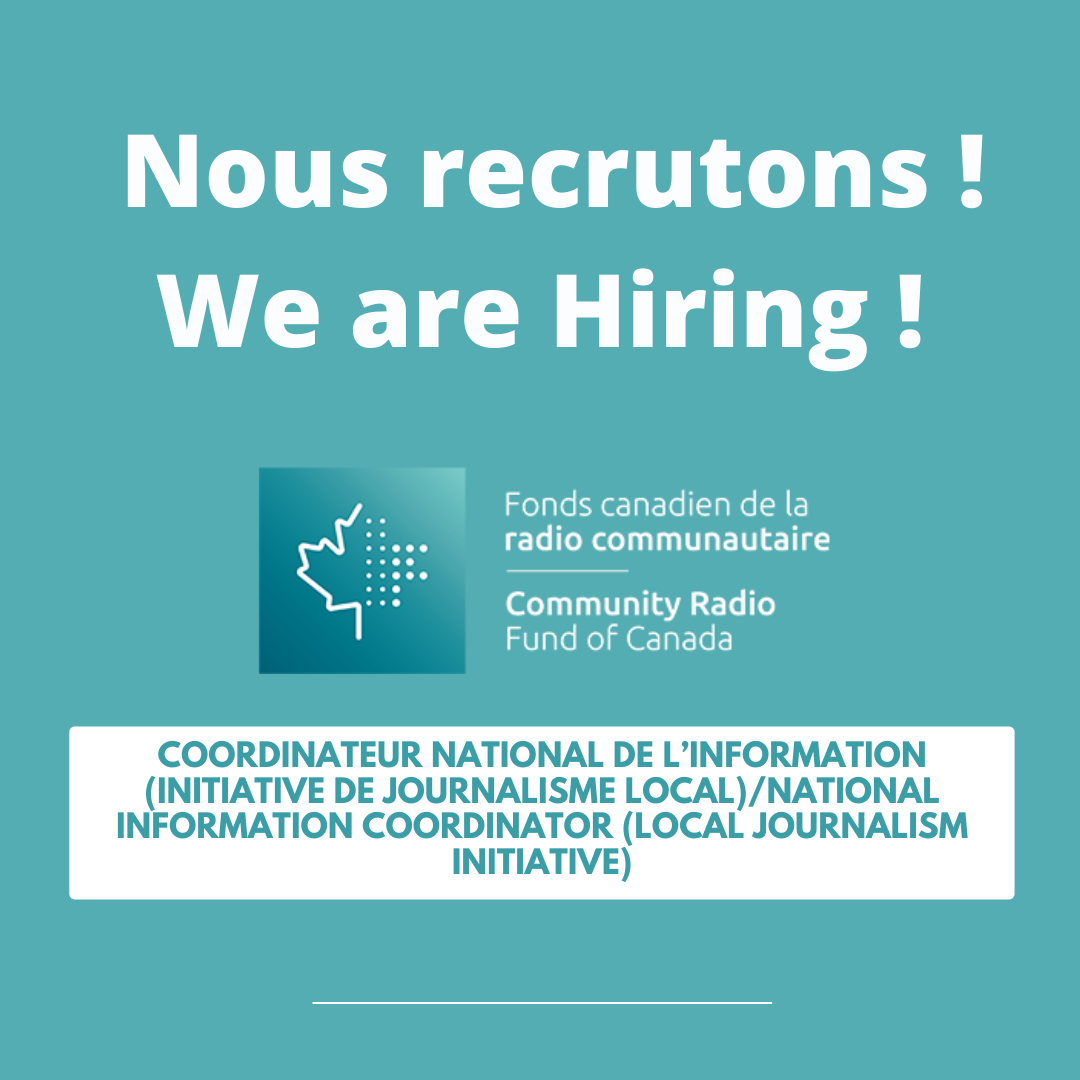 National Information Coordinator (Local Journalism Initiative)
Start date: November 1, 2021
End date : March 31, 2023
Salary: $33/hr.  30 hrs/wk
Language: Bilingualism is required.
Location: Ottawa – Telework available depending on COVID-19 requirements.
The National Information Coordinator (NIC) is responsible for working alongside the two other NICs who oversee the journalistic content created by journalists employed by campus, community and Indigenous radio stations as part of the CRFC's Local Journalism Initiative (LJI) Program. This content will be shared via the national distribution platform, Canada-Info.ca. 
The NIC will help optimize this platform and journalistic content to provide greater accessibility  and impact on a national level through social media and online activities. The NIC will also lead the production of a weekly news program in French and English.
The NIC will use their skills in journalism and management, reflecting an understanding of historical, current and future trends in the field, the needs of the public, as well as the management techniques and skills needed to apply that knowledge to assist journalists and share their journalistic content across Canada.
 Tasks
Promoting the content on Canada-Info.ca via social media

Working to optimize Canada-Info.ca  

Communicating with web developer and stations

Compiling and producing national programming content

Creating training materials, best practices documents, policies and other necessary documents

Creating and maintaining strategic partnerships

Fostering participation in a national newsroom 

Editorial support for LJI journalists

Other tasks as necessary
Experience

Minimum 3 years experience as a journalist
Proven record of creating effective content for specific audiences and meeting deadlinesExperience with WordPress
Experience with social media
Skills 
Excellent written and verbal communication skills in French and English (mandatory bilingualism);
Excellent communication, interpersonal, team working, problem-solving and analytical skills
Excellent judgment, time and priority management, organizational and leadership skills
Ability to meet deadlines
Creativity and the ability to develop and edit audio content
Knowledgeable, experienced and capable of building relationships with diverse communities underrepresented in the broadcasting industry


About the Community Radio Fund of Canada 
The Community Radio Fund of Canada (CRFC) seeks and secures resources to fuel the production, distribution and sustainability of Canada's community audio broadcasters through dynamic funding programs. The CRFC advocates and supports their contribution to the media sector in Canada, reflecting the diversity of their listeners, promoting independent local content, and building their capacity to connect and inform the population they serve.
About the Local Journalism Initiative

The Local Journalism Initiative (LJI) supports the creation of original civic journalism that covers the diverse needs of underserved communities across Canada. Funding is available to eligible Canadian media organizations to hire journalists to produce civic journalism for underserved communities. The content produced will be made available to media organizations through a Creative Commons license so that Canadians can be better informed. The Community Radio Fund of Canada is one of the not-for-profit organizations administering the Initiative. This project has been made possible by the Government of Canada.

How to Apply
Applicants are asked to forward a cover letter, a short resume or CV as well as two references.  Applications must be received by 5:00 p.m. ET on October 15th, 2021. Applicants will apply by email to info@crfc-fcrc.ca.
Everyone is thanked for applying, however, only those selected for an interview will be contacted. 
The CRFC encourages applications from a diverse range of candidates, including (but not limited to) women, people of colour, those who identify as LGBTQ+, and people with disabilities.
For more information about the CRFC, please visit www.crfc-fcrc.ca.