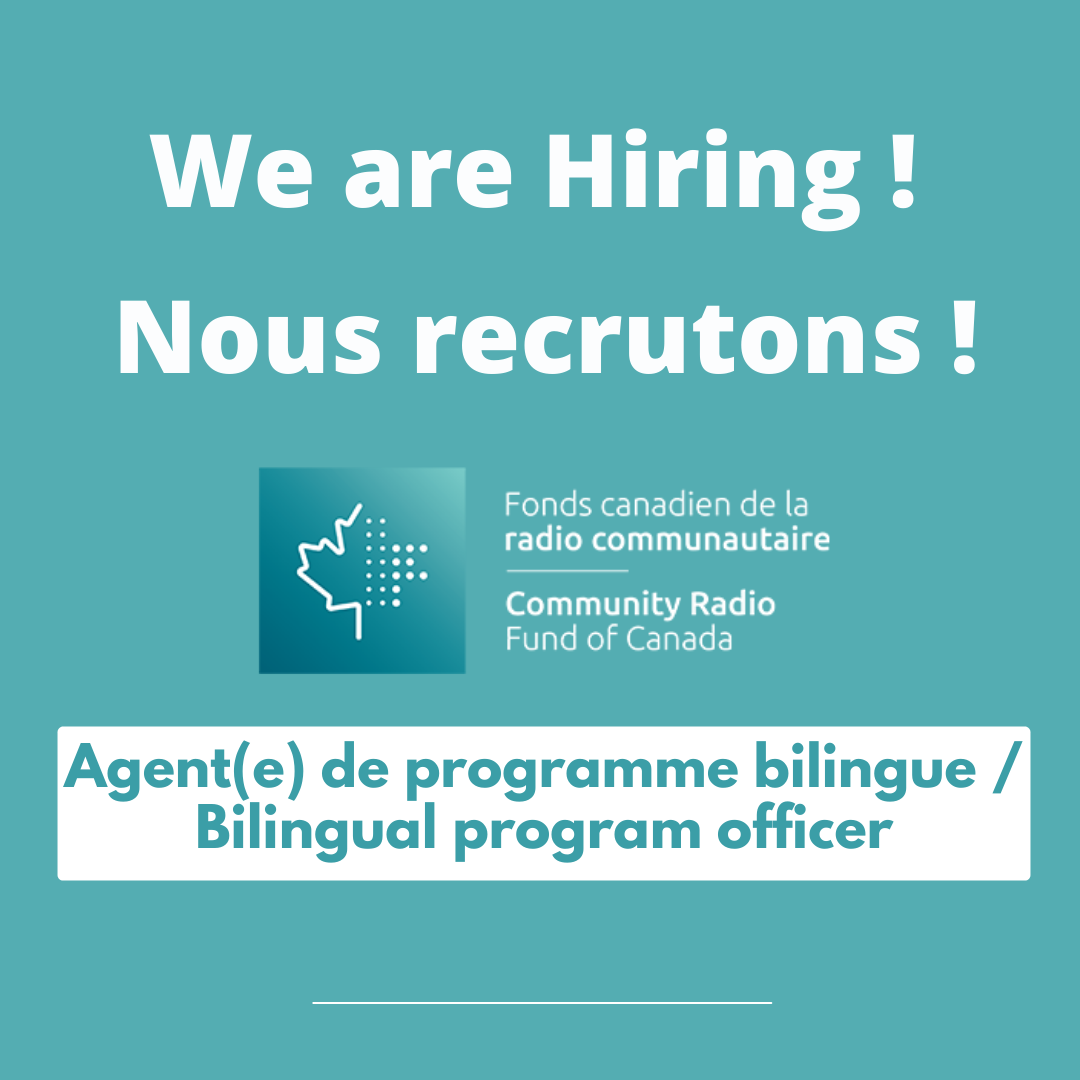 JOB POSTING: PROGRAM OFFICER (Bilingual position)
Closing date: October 15, 2021
Status: Temporary Full-Time (30 hours/week) until April 30, 2022
Start date: November 1, 2021
End date : April 30, 2022
Salary: $35/hr. 30 hrs/wk
Language: Bilingualism is required
Location: Ottawa – Telework available depending on COVID requirements.
The Community Radio Fund of Canada (CRFC) is an independent, not-for-profit funding organization based in Ottawa. The CRFC seeks and secures resources to fuel the production, distribution and sustainability of Canada's community audio broadcasters through dynamic funding programs.. The CRFC advocates and supports their contribution to the media sector in Canada, reflecting the diversity of their listeners, promoting independent local content, and building their capacity to connect and inform the population they serve.
About the role
Under the supervision of the Executive Director, the Programs Officer's main focus is to support the Programs Manager in implementing and maintaining the COVID-19 Emergency Support funding program and perform various tasks related to the effective operation of the Fund and its programs.
Specific responsibilities
Implementation of programs
In collaboration with the Programs Manager and other members of the Programs Team, the Program officer will:
participate in the improvement of program processes and materials
respond to inquiries from applicants and provide support throughout the application process;
assess the eligibility of applicants and applications and follow-up accordingly;
notify applicants of application results, manage contribution agreements and communications torecipients
provide support to recipients during the funding period
assess report forms and ensure compliance of contribution agreements and program objectives;
evaluate and compile program results and assist in reporting to funding bodies;
prepare payment requisition forms;
perform other duties as necessary.
Education and Experience
Post-secondary degree in a relevant field, or an equivalent combination of education and experience;
At least 3 years of experience in management, administration and evaluation of programs;AssetsKnowledge of and/or experience in:
the campus and community radio sector
media, journalism and/or broadcasting sectors
funding bodies and funding programs;
the not-for-profit sector.Attributes
Excellent written and verbal communication skills in French and English (mandatory bilingualism);
Excellent understanding of budgets and financial statements;
Knowledgeable, experienced and capable of building relationships with diverse communities underrepresented in the broadcasting industry;
Understanding the principles of results-based management;
Advanced computer skills, including word processing, spreadsheet, database and presentation software;
Attention to detail;
Sense of organization and priority management, autonomy and sense of initiative;
Judgment, tact and diplomacy.How to ApplyApplicants are asked to forward a cover letter, a short resume or CV as well as two references by 5:00 p.m. ET on October 15, 2021. Applicants will apply by email to alex@crfc-fcrc.ca.Everyone is thanked for applying, however, only those selected for an interview will be contacted.

Community Radio Fund of Canada

130 Albert St, Suite 606 Ottawa, ON K1P 5G4 Phone: 613-321-3513
Email: alex@crfc-fcrc.ca

The CRFC encourages applications from a diverse range of candidates, including (but not limited to) women, people of colour, those who identify as LGBTQ+, and people with disabilities.

For more information about the CRFC, please visit www.crfc-fcrc.ca.