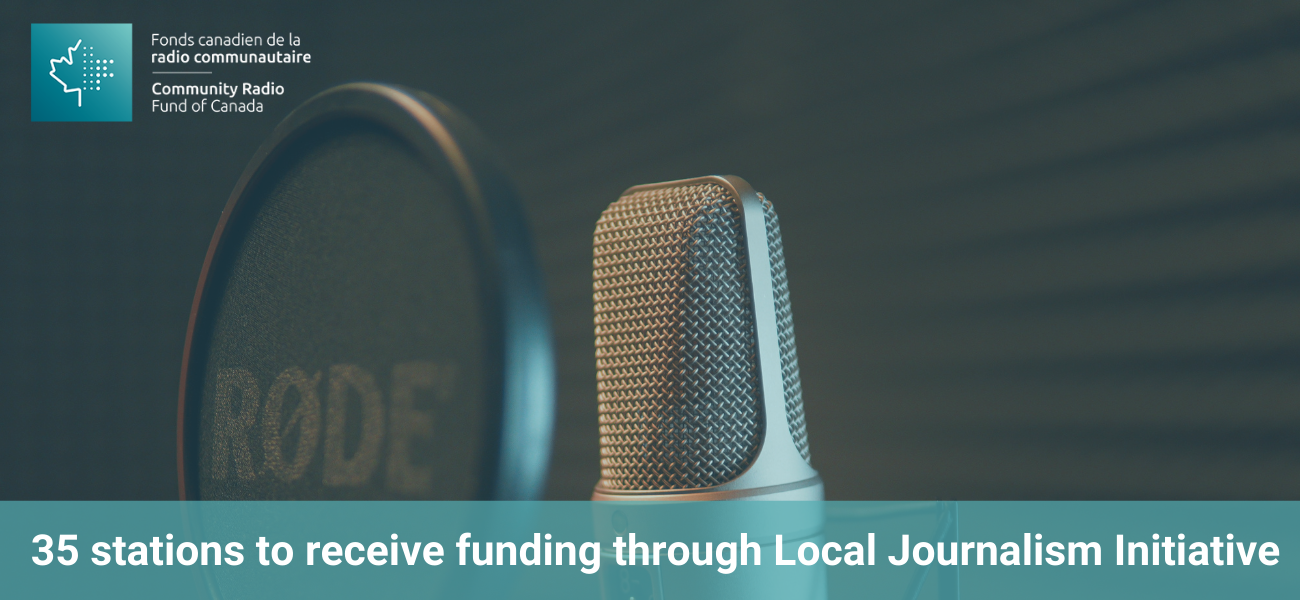 The Community Radio Fund of Canada (CRFC) has selected 35 community radio stations across Canada that will receive funding through The Local Journalism Initiative (LJI). These funds will be used to hire journalists who will create news related to underserved communities across 7 provinces and 1 territory.
Funded by Canadian Heritage, the LJI supports the creation of civic journalism, increasing journalistic capacity, access to local news and consumption of local news within these communities. 
The CRFC continues to strive to provide funding that's reflective of the diversity of stations broadcasting within Canada. In this round, CHHA Radio Voces Latinas, will be the first Spanish-speaking community radio station to be funded through the initiative. Journalists will be located in and serving 14 official language minority communities. This round of funding will also support 5 Indigenous stations, the largest number in any round of CRFC funding to date.
The stations selected include; 
CFED, Edmonton Alberta FR 
CFJU, Saint-Quentin New Brunswick FR 
CFMF, Fermont Quebec FR
CFNR, Terrace British Columbia EN 
CFRC, Kingston Ontario EN 
CFRH, Penetanguishene Ontario FR 
CFWE, Edmonton Alberta EN 
CHEF, Matagami Quebec FR 
CHHA, Toronto Ontario SP
CHMA, Sackville New Brunswick EN 
CHME, Essipit Quebec FR 
CHPL, Plamondon Alberta FR 
CICK, Smithers British Columbia EN 
CIDI, Knowlton Quebec EN 
CIFA, Comeauville Nova Scotia FR 
CILS, Victoria British Columbia FR 
CIVL, Abbotsford British Columbia EN 
CIVR, Yellowknife Northwest Territories FR 
CJFO, Ottawa Ontario FR 
CJKS, Ohsweken Ontario EN 
CJLY, Nelson British Columbia EN 
CJPE, Picton Ontario EN 
CJPN, Fredericton New Brunswick FR
CJQC, Liverpool Nova Scotia EN 
CJRU, Toronto Ontario EN 
CJTB, Tête-à-la-Baleine Quebec FR 
CKDU, Halifax Nova Scotia EN 
CKGN, Kapuskasing Ontario FR 
CKJM, Chéticamp Nova Scotia FR 
CKRH, Dartmouth Nova Scotia FR 
CKRP, Falher Alberta FR 
CKRZ, Ohsweken Ontario EN 
CKTZ, Manson's Landing British Columbia EN 
CKXL, Saint-Boniface Manitoba FR 
VF 2590, Revelstoke British Columbia EN
The stories that matter to these communities also matter to other Canadians. We commit to not
only supporting the journalism created by this initiative but sharing it with the rest of the
country. The stories produced by journalists hired through the LJI program will be made available to
Canadian media outlets and the public at no charge via the national distribution platform at
Canada-Info.ca. Canadian media outlets will be able to rebroadcast and share the content
created by the LJI journalists via a Creative Commons license.