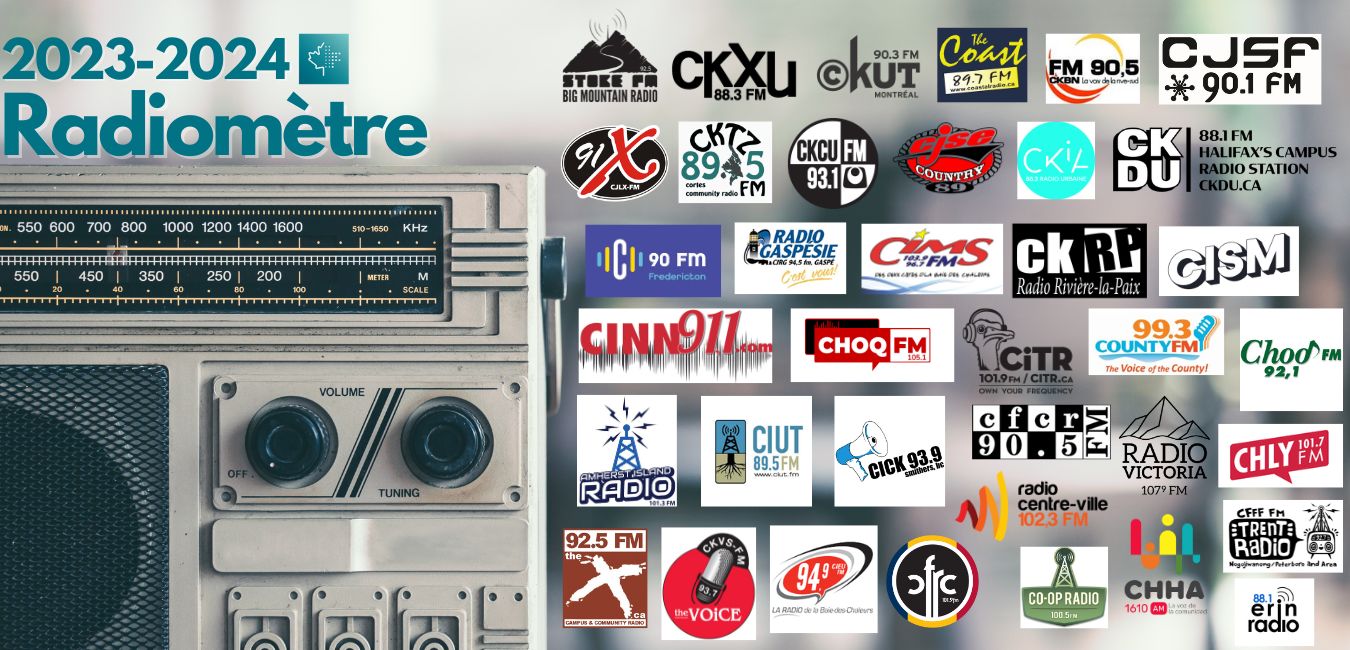 The Community Radio Fund of Canada (CRFC) is proud to announce that 41 campus and community radio stations will receive funding through the 2023-2024 Radiometres program. 
Started in 2012, Radiometres supports a wide range of projects in the campus-community radio sector as stations develop engaging Canadian content. Specifically, the project aims to increase access to local news and information, support emerging music scenes, enhance essential technologies used to distribute programming, and strengthen overall capacity-building. 
Here are a few examples of the projects which will be funded this year: 
A 10-part podcast series by the University of Calgary's radio station (CJSW) on the film and television industry, explores its role as a significant blockbuster hub. 
"Thank you so much to the Community Radio Fund of Canada for their support of "Homesteads To Hollywood", CJSW's 2023 podcasting project."  

"This documentary-style podcast will be covering the history of Calgary's involvement with film and TV production, but also discuss all facets regarding current and future productions. This unique opportunity to obtain funding from the CRFC for this project will enable us to tell this story that documents an unsung facet of Calgary's cultural history," 

-CJSW Station Manager Adam Kamis
An expansion of a radio camp at the station in Manson's Landing, B.C. (CKTZ) for youth ages 14-17 which will integrate experimental media arts and decolonization. 
A community-driven oral history project led by CKUT at McGill University on Montreal's Afro-Caribbean community will see youth documenting the lived histories of their elders.
The CRFC wishes to acknowledge and thank commercial radio stations who, through their contributions to Canadian Content Development, provide the critical funding to make this program possible. 
To learn more about Radiometres, please visit https://crfc-fcrc.ca/radiometres/
See below for the full list of successful stations for 2023-2024 Radiometres. 
Kamloops Community Campus Radio Society (CFBX) Kamloops, British Columbia
Community Radio Society of Saskatoon (CFCR) Saskatoon, Saskatchewan
Trent Radio (CFFF) Peterborough, Ontario
Radio Queen's University (CFRC) Kingston, Ontario
Vancouver Co-operative Radio (CFRO) Vancouver, British Columbia
Erin Radio (CHES) Erin Radio
San Lorenzo Latin American Community Centre (CHHA) Toronto, Ontario
Radio Malaspina Society (CHLY) Nanaimo, British Columbia
Attic Broadcasting Inc. (CHMA) Sackville, New Brunswick
Radio Communautaire Cornwall-Alexandria INC. (CHOD) Casselman, Ontario
La Coopérative radiophonique de Toronto Inc. (CHOQ) Toronto, Ontario
Smithers Community Radio Society (CICK) Smithers, British Columbia
Diffusion communautaire Baie-des-Chaleurs Inc. (CIEU) Carleton-sur-mer, Québec
Société radio communautaire Victoria (CILS) Victoria, British Columbia
Coopérative Radio Restigouche Limitée (CIMS) Balmoral, New Brunswick
Radio de l'épinette noire Inc. (CINN) Hearst, Ontario
Radio Centre-Ville Saint-Louis Cinq FM (CINQ) Montréal, Québec
Communication du versant nord Inc. (CISM) Montreal, Quebec
The Student Radio Society of the University of British Columbia (CiTR) Vancouver, British Columbia
University of Toronto CIUT 89.5 FM, Toronto, Ontario
Amherst Island Radio Broadcasting (CJAI) Stella, Ontario
Loyalist College Radio (CJLX) Belleville, Ontario
Prince Edward County Radio Cooperation (CJPE) Picton, Ontario
Radio Fredericton Inc. (CJPN) Fredericton, New Brunswick
Radio Gaspésie (CJRG) Gaspé, Quebec
Radio Beauséjour (CJSE) Shediac, New Brunswick
Simon Fraser Campus Radio Society (CJSF) Burnaby, British Columbia
First Alberta Campus Radio Association (CJSR) Edmonton, Alberta
University of Calgary Student Radio Society (CJSW) Calgary, Alberta
Coopérative de solidarité radio communautaire (CKBN) Bécancour, Québec 
Radio Carleton Inc. (CKCU) Ottawa, Ontario
CKDU FM Society (CKDU) Halifax, Nova Scotia
Haliburton County Community Radio Association (CKHA) Haliburton, Ontario
Radio Basse-Ville (CKIA) Québec, Quebec
Coastal Community Radio Cooperative Ltd. (CKOA) Sydney, Nova Scotia
Radio Rivière-la-paix (CKRP) Falher, Alberta
Cortes Community Radio Society (CKTZ) Manson's Landing, British Columbia
Radio CKUT (CKUT) Montreal, Quebec
Voice of the Shuswap Broadcast Society (CKVS) Salmon Arm, British Columbia
CKXU Radio Society (CKXU) Lethbridge, Alberta
Stoke FM Radio Society (VF2590) Revelstoke, British Columbia