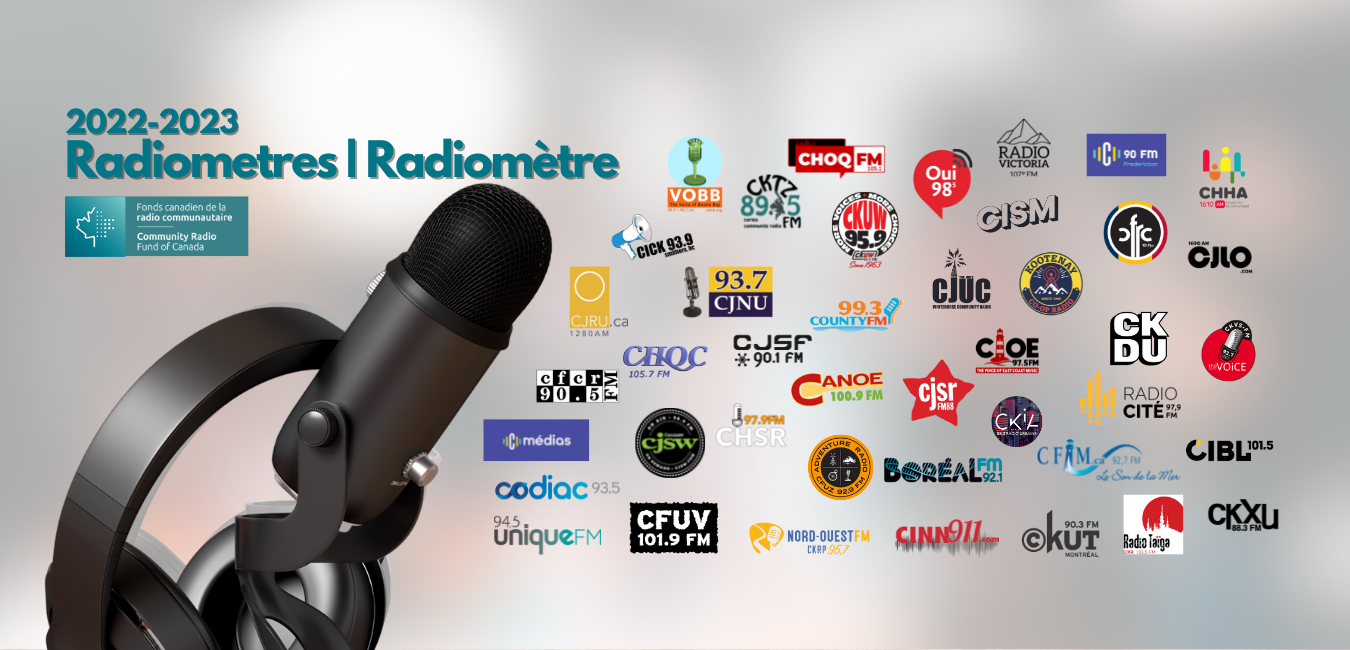 The 12th round of The Community Radio Fund of Canada's (CRFC) Radiometres will award funding to 42 community and campus radio stations. The creativity and diversity of the projects selected this round ensure a lasting impact will be made on communities across Canada. 
These projects build community in their local area while driving the production of Canadian content and innovating the entire broadcasting industry. This funding provides an opportunity for community radio stations to explore their community's identity and bring local voices to air.
This year, projects range from exploring queer histories to educating listeners on Indigenous truths across Canada. 
One of the stations selected is 99.3 County FM (CJPE). The community radio station broadcasting in Prince Edward County will create an eight-part documentary exploring homelessness in rural communities. The project will interview those experiencing homelessness as well as community organizations and leaders. 
99.3 County FM describes the project, 
"Homelessness is often perceived as an urban dilemma, as the homeless are more visible and more numerous. While the situation may seem similar in rural areas to that in big cities, the rural homeless face some unique challenges. With CRFC funding, our "Voices from the Shadows: Homeless in a Rural Community" project will shine the spotlight on what it means to be homeless in Prince Edward County (PEC) and Hastings County."
Radiometres has supported community projects for over ten years and is guided by three pillars including, content creation, skills development and digital initiatives. These pillars allow each station to create programming tailored to their own communities and experiment with new mediums and creative methods of delivery. 
To learn more about the Radiometres program follow us on social media @crfcfcrc.
Thank you commercial radio stations who, through their contributions to Canadian Content Development, provide the critical funding which makes this program possible.
The full list of stations selected for the 2022-2023 Radiometres program includes; 
CFCR Radio (CFCR) Saskatoon, SK
Société de la radio communautaire du Grand Edmonton Society (CFED) Edmonton, AB
Diffusion Communautaire des Îles inc. (CFIM) Cap-aux-Meules, QC
Radio Queen's University (CFRC) Kingston, ON
University of Victoria Student Radio Society (CFUV) Victoria, BC
Peach City Community Radio Society (CFUZ) Penticton, BC
Voice of Bonne Bay Community Radio (CHBB) Norris Point, NL
San Lorenzo Latin American Community Centre (CHHA) Toronto, ON
Coopérative radiophonique de Toronto (CHOQ) Toronto, ON
Club de la Radio Communautaire de Plamondon-Lac La Biche (CHPL) Plamondon, AB
Coopérative Radiophonique – La Brise de la Baie Ltée (CHQC) Saint John, NB
CHSR Broadcasting Inc. (CHSR) Fredericton, NB
Radio communautaire francophone de Montréal (CIBL) Montréal, QC
Smithers Community Radio Society (CICK) Smithers, BC
Société Radio Communautaire Victoria (CILS) Victoria, BC
Radio de l'Épinette Noire inc. (CINN) Hearst, ON
Cobequid Radio Society (CIOE) Bedford, NS
Communication du Versant Nord (CISM) Montréal, QC
Société Radio Taïga (CIVR) Yellowknife, NT
La Radio de la communauté francophone d'Ottawa (CJFO) Ottawa, ON
Concordia University Student Radio (CJLO) Montreal, QC
Kootenay Cooperative Radio (CJLY) Nelson, BC
Nostalgia Broadcasting Cooperative (CJNU) Winnipeg, MB
Prince Edward County Radio Corporation (CJPE) Picton, ON
Radio Fredericton Inc. (CJPN) Fredericton, NB
CJRU 1280 AM – Radio Ryerson Inc. (CJRU) Toronto, ON
Simon Fraser Campus Radio Society (CJSF) Burnaby, BC
First Alberta Campus Radio Association (CJSR) Edmonton, AB
University of Calgary Student Radio Society (CJSW) Calgary, AB
Utilities Consumer Group (CJUC) Whitehorse, YT
CKDU 88.1FM (CKDU) Halifax, NS
Haliburton County Community Radio Association (CKHA) Haliburton, ON
Radio Basse-Ville (CKIA) Québec, QC
Radio MirAcadie inc. (CKMA) Miramichi, NB
Coopérative Radio Halifax Metro Ltée. (CKRH) Halifax, NS
Radio Rivière-la-Paix (CKRP) Falher, AB
Cortes Community Radio Society (CKTZ) Manson's Landing, BC
Les médias acadiens universitaires inc. (CKUM) Moncton, NB
Radio CKUT (CKUT) Montréal, QC
Winnipeg Campus Community Radio Society (CKUW) Winnipeg, MB
Voice of the Shuswap Broadcast Society (CKVS) Salmon Arm, BC
CKXU Radio Society (CKXU) Lethbridge, AB