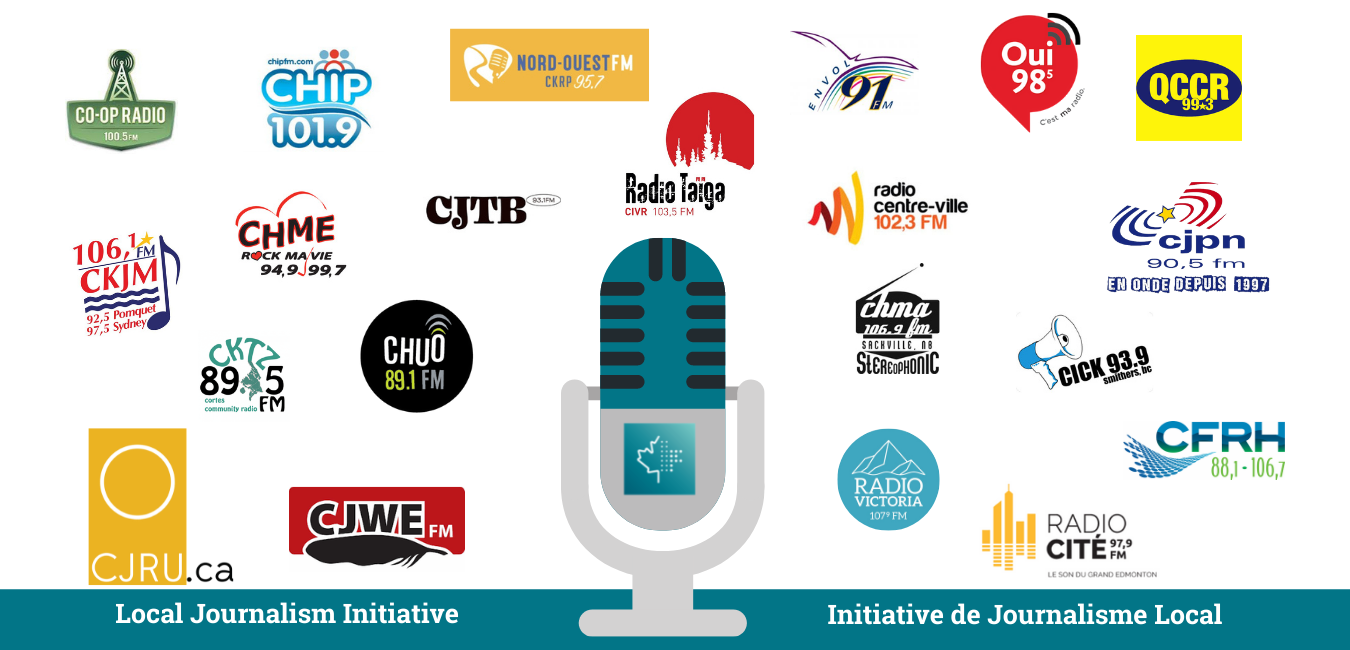 The Community Radio Fund of Canada has selected 21 stations across Canada that will receive funding for the Local Journalism Initiative! The stations selected encompass a wide range of diverse communities and voices operating in both English and French. 
 Funded by Canadian Heritage, the Local Journalism Initiative supports civic journalism and works to empower voices of underserved communities. This funding increases journalistic capacity, accessibility to local news, and the consumption of local news within these communities. 
The Local Journalism Initiative supports salaries of the journalists who allow stations to facilitate deeper connections with their communities. In order to ensure journalistic independence, the CRFC administers the program on behalf of the government.
"In remote areas (where coverage of local issues is largely ignored by corporate media) gossip, hearsay, and misinformation spread unchecked, fostering mistrust and community divisions. 
News produced and broadcasted through local community radio stations, by reporters funded through the Local Journalism Initiative, is the most reliable and accessible channel for ethical and responsible civic journalism for residents living in these remote communities."  Bryan McKinnon, station manager, CKTZ Cortes Island, BC
The content created through this initiative will be accessible to all Canadians and media outlets free of charge through the program's national distribution centre. To see the quality content created in previous years check out canada-info.ca.
The stations selected for the Local Journalism Initiative include;
Société radio communautaire Victoria (CILS), British Columbia
FR
Société CKRP Radio Rivière-la-paix (CKRP), Alberta
FR
Cortes Community Radio Society (CKTZ), British Columbia
EN
Radio Huronie Fm Communautaire Inc (CFRH), Ontario
FR
radio communautaire Tête-à-la-Baleine (CJTB), Quebec
FR
Radio Fredericton inc (CJPN), New Brunswick
FR
La Coopérative Radio Chéticamp Ltée (CKJM), Nova Scotia
FR
Smithers Community Radio Society (CICK), British Columbia
EN
Attic Broadcasting Ltd Co (CHMA), New Brunswick
EN
Radio communautaire du Manitoba inc (CKXL), Manitoba
FR
Coopérative Radio-Halifax-Métro limité (CKRH), Nova Scotia
FR
Radio Centre-Ville Saint-Louis Cinq FM (Cinq), Quebec
FR
Vancouver Co-operative Radio (CFRO), British Columbia
EN
Radio Essipit Haute-Côte-Nord inc (CHME), Quebec
FR
CJQC Radio Society (CJQC), Nova Scotia
EN
Société de la radio communautaire du Grand Edmonton Society (CFED), Alberta
FR
Aboriginal Multi-Media Society of Alberta (CFWE), Alberta
EN
Médias ténois (CIVR), Northwest Territories
FR
Radio Ryerson Inc (CJRU), Ontario
EN
La Radio communautaire de Pontiac (CHIP), Quebec
FR
Centre for Independent Media & Arts Inc (CHUO), Ontario
EN
Detailed information on the Local Journalism Initiative can be found through the CRFC website at https://crfc-fcrc.ca/en/local-journalism-initiative/ .