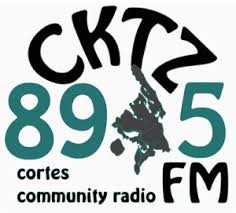 CKTZ 89.5 FM
Cortes Community Radio Society
Manson's Landing, BC
The Deep Roots - Island Waves Initiative
Cortes Community Radio (CKTZ-FM) recently completed their project Island Waves, an extension of their previous Radiometres-funded project Deep Roots Initiative. The project consisted in the production of new spoken word programming on local First Nations culture and environmental issues. New spoken word programming on these themes will continue to be produced by the station. The project has enabled CKTZ to strengthen and broaden connections with local organisations as well as the Klahoose First Nations community.
"Listener interest in First Nations programming was elevated, leading to meaningful connections and community bridging," says Odette Auger of CKTZ.
Find out more about Island Waves and listen to the programming produced on the station's website: https://cortesradio.ca/deep-roots-initiative/.